Who's in the Stream
The Living Stream Church of the Brethren consists of many people from many places.  Here are a few of the people who help lead the stream:
OUR PASTORS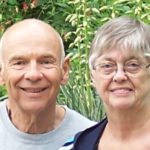 Bruce and MarySue have served the Church of the Brethren (and world) as pastors, chaplains, administrators, authors, camp directors, teachers, and more. Now retired in the Columbus, Ohio, area, they share with Living Stream their gifts, perspectives, and deep passion for ministry. Contact them at MarySue @ LivingStreamCoB . org and Bruce @ LivingStreamCoB . org
Enten is our technology expert and regular worship contributor. He lives in Ambler, Pennsylvania, where he and his wife Mary are amazing co-pastors.  Shown here with Mary, Enten has experience using electronic media to make connections for worship, education, and community building. Not just anyone can make headphones look so snazzy.  Contact him at Enten @ LivingStreamCoB . org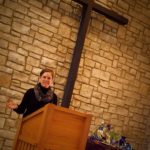 Monica has been an active member of the Living Stream community since its inception in 2012, and joined the pastoral team in 2016. Living in Wichita, Kansas, she will bring the good word of this online community to the Great Plains.  With a background in theological education and work at Bethany Theological Seminary, she brings great depth and insight as well as compassion and warmth to this ministry. Contact her at Monica @ LivingStreamCoB . org
OUR STREAMS OF MUSIC

Tim McKamey is a Washington mu
sician in study to become a music healing practitioner. He contributes great music and other groovy resources to our ministry, including writing us our very own theme song!!! – used in our opening video, Part of the Living Stream.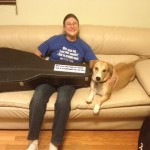 Linda K Williams contributes music to our ministry, including our closing video song.  As an active peace mobilizer in San Diego, Linda helps spread the good news of our Prince of Peace – musically as well as in education and action.  Find out more about Linda and download her songs FREE at her new website.

OUR ADVISORY BOARD

In addition to the Pacific Northwest District of the Church of the Brethren, Living Stream Church of the Brethren is honored by the wisdom and guidance of a great team: Jim Lehman, DE Colleen Michael, District Minister Carol Mason, our ministry team, and more.